Discover more from Everywhere We Eat
Food and travel stories.
Soba Love, Soba Confusion
How to eat soba and really appreciate it.
Like a broken compass, my head spun endlessly in an attempt to navigate the sprawl of eight dishes, vessels, and ingredients that lay motionless in front of me. 
The pile of soba noodles lay tall and thick, taunting me from the zaru (slotted bamboo plate) that cradled the chilled noodles like a cherished memory. I've had zaru soba in the States, but my culinary confidence didn't carry overseas. 
The tsuyu sauce (dipping sauce for soba noodles), a mysterious and umami-rich blend of soy sauce, dashi (soup stock), and mirin (cooking wine), held the key to unlocking the dish's potential. Its depths were a lightless pool in a narrow spouted cup, a vessel that practically asked me to pour it into the light. But if that were true, it exposed my understanding of the ceremony for eating zaru dipping soba.
The condiments — slivers of green onion, a dab of wasabi, a tiny mound of grated daikon, and a heap of salt — lay scattered and unfitting to this theory. The tempura — an airy mix of purple, brown, and green vegetables, cod, and crustaceans cloaked in a crisp batter — were losing their vividness and golden perfection as my inaction lingered. 
And what is this cloudy, chalk-white concoction in a cup, and why did they give me an entire teapot of it? Curiously, I sipped the natural elixir of warm soba-yu, the water that boiled the soba, its flavor simply of flour and water. 
I felt baffled about the puzzle that even my chopsticks, my trusty companions in countless culinary adventures, felt foreign to me.
I looked around at the other counter patrons seated at the same time as me. The older gentleman to my left, perhaps 80 or older, had his chopsticks in a furious blur as he was already nose-deep into his noodles, slurping them with revelry. The couple to my right, in hushed but enthusiastic tones, was speaking and gesturing emphatically toward their noodles in their excitement. I couldn't help but feel envy for the seasoned patrons and a boiling frustration about my shortcomings.
In my desperation, I flung myself into the food, nibbled and sipped everything in a clockwise motion: a sip of soba-yu, a splash of tsuyu onto the noodles, a bite and short slurp of soba, a pinch of wasabi and green onion, then a crunch of tempura before repeating my round. 
I was trying to develop my style and reasoning to eat the delicious meal in front of me, but to the chef behind the counter, I looked no better than a fish flopping out of water. 
I finished my meal in a panicked, frenzied stare at my empty plates, bewildered and guilty of the crimes I had committed against the sacred ritual of eating soba, which dates back hundreds if not thousands of years. 
As he finished his last cup of warm soba-yu, mixed with the pleasant and sweet remains of tsuyu, the older gentleman at the counter pushed his tableware, making space to pass out and take a nap right there. My cup of soba-yu was practically untouched, my teapot still full and steaming, and left on the table in a plain and symbolic context.
The unsettling mix of humility and determination from that first soba encounter made me turn to the temples and shrines of Kyoto for enlightenment and atonement. En route to Kinkaku-ji, a golden Buddhist temple, I realized that I was still hungry.
I craved redemption — a chance to prove to myself, and perhaps the universe, that I could eat and genuinely appreciate this seemingly simple dish. 
I passed by a queue of over 20 people waiting for an unassuming restaurant. As if it was destiny, Sobashubo Ichii was a renowned soba shop that specialized in Kamo Seiro Soba, a cold soba dish with a warm dipping sauce of Japanese leek and Osaka Kawachi duck, a meat that's known for its tenderness and sweetness.
I eagerly joined the hour-long line of expectant diners, and relished in the perfect opportunity to hone my skills. Then I devoured every piece of information I could find on my phone, delving into the rich history of soba making, the etiquette of noodle slurping, and the delicate art of balancing flavors and textures in the tradition of eating soba. 
Armed with my newfound knowledge and an insatiable appetite for culinary vindication, I ventured in – this time, with my head held high and a smile of anticipation and quiet confidence.
The familiar sprawl of noodles, dipping sauce, and condiments arrived, but this time, I was ready.
With purposeful precision, I wielded my chopsticks like a seasoned soba master and flawlessly performed the carefully orchestrated steps I had composed:
1. Sip the sauce:

I tasted the tsuyu, a rich, umami-filled dipping sauce that would elevate the soba experience. I was preparing my palate for the symphony that awaits and checking before the show for balance across seasoning and temperature.

2. Nibble the noodles:

I familiarized myself with the soba's delicate texture and earthy undertones. Still in its elegant minimalism, this was my chance to appreciate the noodle's craftmanship and history behind it.

3. Garnish the noodles with toppings:

I introduced my soba to its accompanying cast of characters – a dab of wasabi, a sprinkle of green onions, and a smattering of grated daikon. Each addition adds depth and complexity to the dish, creating a harmonious medley of flavors.

4. Lift, dip, and subtly slurp the noodles:

The curtains rose as I lifted a small bundle of noodles, then gently immersed them in the tsuyu. The noodles mingled with the sauce briefly, then I enjoyed and embraced the art of slurping – a sign of appreciation and enjoyment in Japanese culture.

5. Eat any additions and repeat:

Solo pieces will play from any accompanying tempura, vegetables, or in my case, marbling duck meat in addition to the continued indulgence in the interplay of flavors, textures, and temperatures between soba, tsuyu, and toppings.

6. Pour soba-yu into the tsuyu and drink:

At the finale, I introduced the soba yu – the hot, cloudy water in which the noodles were cooked – into the remaining tsuyu, transforming the dipping sauce into a soothing, full-bodied, and resource-driven soup for the end of the meal.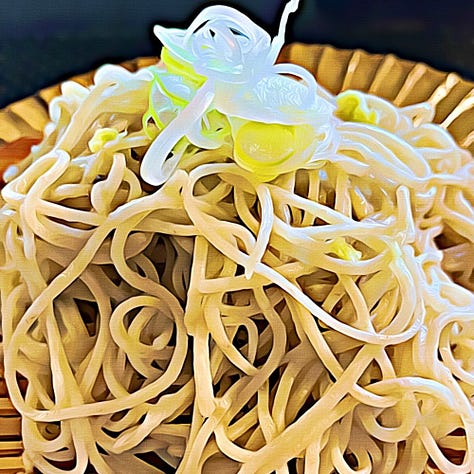 As I savored the last morsel of Osaka Kawachi duck, the medium-rare, sweet and tender flesh, its succulence melting luxuriously on my tongue, I couldn't help but smile as a reluctant farewell to a sublime meal. I had reached the crescendo with a precise pace, and like a perfectly timed note, my waitress gently placed a hot teapot of soba-yu in front of me.
Sheepishly, I pointed to the soba-yu and asked, "nomu?" (to drink?) Pleasantly nodding, she swayed and motioned her hands, gracefully depicting the final act of pouring soba-yu into tsuyu, the liquids swirling together and creating a soul-warming elixir.
I raised the cup and savored the soothing blend; each sips a delightful marriage of richly satisfying flavors and the comforting essence of the soba – a fitting, contemplative finale.
After my meal, I stood in quiet introspection under a maple tree in front of the gilded grandeur of Kinkaku-ji, a zen temple known as the Golden Pavillion. Set against the backdrop of lush greenery and a tranquil pond, it shimmered in the sunlight, its reflection dancing upon the water's surface like a mirage.
An aura of serenity enveloped the temple. Me too, I thought.
I took a deep breath and felt a wave of solace in overcoming my earlier soba struggle. This journey, which began with a simple set of soba, had unexpectedly become a lesson in humility, resilience, and personal growth.
From the moment I saw the older gentleman effortlessly enjoy his soba and pass out after finishing — I wanted that so badly. With a zealous passion and intense curiosity, I wanted to truly understand and appreciate the art of enjoying soba. And it wasn't only a delicious meal I was after; I wanted to partake in a centuries-old culinary tradition that has been lovingly preserved and evolved through generations dating back to the Edo period. To do that in Japan, the center of the soba universe was the center of my soba saga.
The taste of redemption was sweet. My initial embarrassment now seemed like a precious gift, a whip of disbelief, a beautiful reminder that even the most seasoned travelers and eaters are always learning. It brought me a newfound sense of harmony that, like the perfect balance of flavors in soba, could only be achieved through patience, understanding, and experience.
---
Restaurants mentioned:
Kyourakutei, Japan, 〒162-0825 Tokyo, Shinjuku City, Kagurazaka, 3 Chome−6 神楽坂館1階
Sobashubo Ichii, Japan, 〒603-8357 Kyoto, Kita Ward, Hirano Miyanishicho, 62
---
Thanks for reading Everywhere We Eat! Subscribe for free to receive new posts and support my work.